The Port of Vitrezay offers many cruises on the Gironde from late April to late October. Boating is also present in different forms, accessible to all.
Cruises on the Gironde from Vitrezay
Cruises are an opportunity to discover the natural and traditional riches of the Gironde estuary, the largest in Europe. These cruises on the star "Saintongeais" also allow you to meet unique landscapes and flavors. Among the high places: Talmont sur Gironde in the North, the vineyards of Bordeaux-Médoc on the south bank or the impressive citadel of Blaye.
For your reservations, go to the Jonzac tourist office – +33 (0)5 46 48 49 29 or on site in Port Vitrezay
Programming and online reservation on www.portvitrezay.com/croisieres-blog
Learn navigation
Canoeing, kayaking and stand up paddle boarding are possible activities in the Gironde estuary. Rivers, the Seugne in particular, or lakes such as Montendre, Belluire (near Pons) or Jonzac also welcome these activities.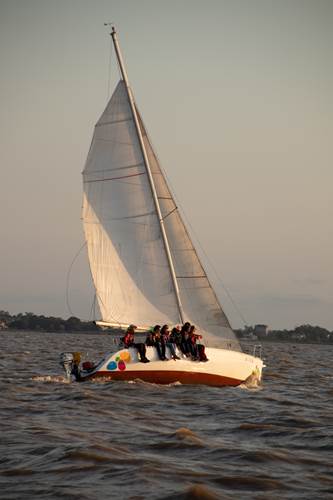 Also, in Port Maubert, kayaking and stand-up paddle boarding are offered on the Gironde basin, channel and plateau to discover the environment independently.
Likewise, the Jonzac Leisure Center offers activities during the summer with this same type of boat.
Learn to sail
What could be more natural in Charente-Maritime than learning to master a sailboat? Although Haute-Saintonge is not located on the coast, it still has the marine fiber. Learning to boating is open to everyone with specialized supervision.
Port Maubert and its sailing school is of course a real spot for sailors and other sailing enthusiasts. The Jonzac leisure center is not left out with a supervised practice allowing an initiation.